From April 20 to 22, three online sessions of QBPC Annual Top 10 Cases Review Meeting were successfully held with the attendance of nearly 200 member representatives. A total of 74 cases were nominated by member companies and reviewed by the Review Committee after preliminary review by QBPC Office. The cases were divided into three categories in IPR protection: criminal case and/or criminal procedure, civil and/or civil procedure, and administrative case and/or administrative procedure. QBPC Chair Michael Ding made an opening remark. Best Practices/Enforcement Committee (BPEC) Chair and Vice-chairs moderated the sessions respectively, and the representatives from nominating companies introduced their cases in turn. Their presentations were so fascinating and engaging that the online audience benefited a lot.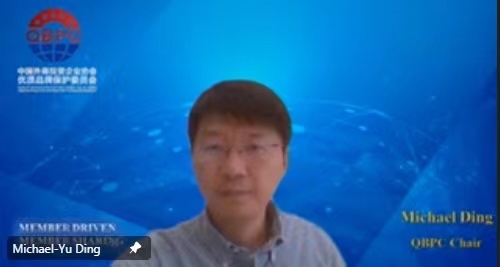 QBPC Chair Michael Ding
Since 2002, the annual case review activities have not only received the positive response of member companies and attracted more and more excellent nominated cases which had led to fierce competition, but also won the recognition of relevant government agencies and the support of local law enforcement authorities. It is widely believed that the relevant cases selected by QBPC over the years are typical, representative and internationally influential.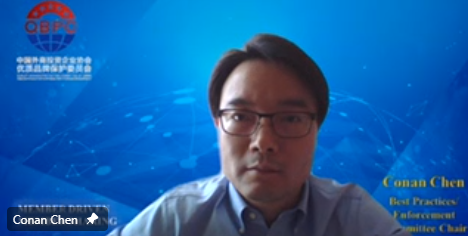 BPEC Chair Conan Chen
This year is the 21st year of the top ten case review and selection activities. In order to adapt to the latest developments of IP judicial protection, QBPC has revised the selection guidelines and set the nominated and selected cases into three categories of IPR protection: criminal case and/or criminal procedure, civil and/or civil procedure, and administrative case and/or administrative procedure. A total of 74 qualified cases were nominated this year. The competition for the category of criminal case or/and criminal procedure was one of the closest in the history of the selection, with 34 nominated cases competing for the top ten. These cases involve a wide range of industries including agriculture, lighting and smart home, personal care, pharmaceutical & medical devices as well as sports, fashions & life, toys & licensed goods, wireless & integrated circuit etc. The cases are typical with extensive social influence in terms of criminal protection in relevant fields.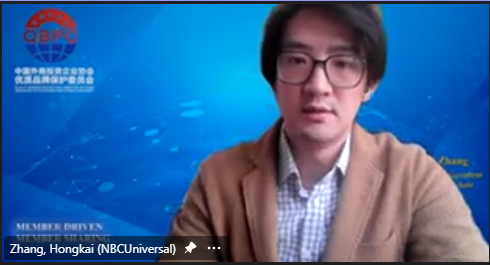 BPEC Vice Chair Hongkai Zhang
Twenty-three nominated cases participated in the selection of the Top 10 IPR cases on civil case and/or civil procedural, involving trademark rights, packaging and decoration rights, anti-unfair competition, trade secret infringement, copyright and many other hot issues. The relevant speakers shared their rich and successful experience from various aspects.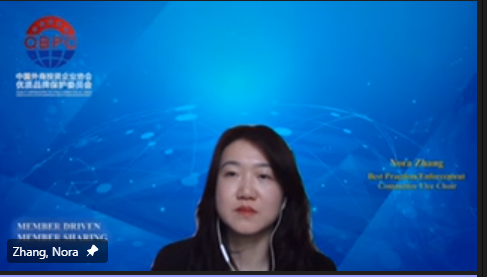 BPEC Vice Chair Nora Zhang
The selection of the Top 10 cases of IPR protection in administrative case and/or administrative procedure is a debut after the update of selection guidelines this year, with a total of 17 cases being shortlisted. In those cases, the IP administrative protection has played an important role in protecting right holders' registered trademarks, color trademarks, well-known trademarks, design patents and unique names of well-known services, which effectively curbed the malicious registration of trademarks, IP infringements and counterfeiting, and maintained a good business environment.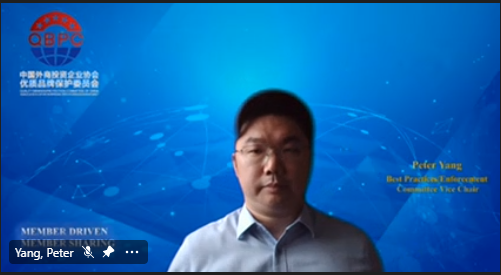 BPEC Vice Chair Peter Yang
This year's review sessions were held online due to the epidemic, but the case nominating companies' representatives made wonderful presentations and the attendees had lively discussion. The result will be announced at the Annual Top 10 Case Announcement in June, so let us all look forward to that.
BPEC Vice Chair Kelvin Liu
No.序号

会员公司Member Company

案件名称Case Name

A1

耐克体育(中国)有限公司,阿迪达斯有限公司

adidas AG,Nike Sports (China) Co., Ltd.

山东枣庄周某军等人特大制售假冒注册商标案

Shandong Zaozhuang Zhou XX serious case of manufacturing and selling counterfeit registered trademarks

A2

艾尔建信息咨询(上海)有限公司

Allergan Information Consulting (Shanghai) Co., Ltd. (an Abbvie company)

"8·02"特大生产、销售假冒医美产品案

"8·02" Case - Large-scale Manufacturing and Sales of Counterfeit Medical Aesthetic Products

A3

安踏体育用品有限公司

ANTA SPORTS PRODUCTS LIMITED

王玉萍销售假冒FILA服装案

Wang Yuping Selling Counterfeit FILA Products

A4

安踏体育用品有限公司

ANTA SPORTS PRODUCTS LIMITED

徐某团伙网络制售假冒ARC'TERYX服装案

ANTA SPORTS PRODUCTS LIMITED

A5

苹果公司

Apple Inc.

王浩锐销售假冒注册商标的商品案

Wang Haorui's Selling Products with Counterfeit Trademark

A6

亚萨合莱(中国)投资有限公司ASSA ABLOY China Investment Co., Ltd.

李进林、周威、周杰韶假冒注册商标刑事案件

Criminal case of Li Jinlin, Zhou Wei and Zhou Jieshao counterfeiting registered trademarks

A7

巴斯夫(中国)有限公司、拜耳作物科学(中国)有限公司、科迪华(中国)投资有限公司、富美实公司、先正达(中国)投资有限公司

BASF (China) Co., Ltd., Bayer CropScience (China) Co., Ltd., Corteva (China) Holding Co., Ltd., FMC Corporation, Syngenta (China) Investment Co., Ltd.

飓风166特大过期农药改标改码案

"Typhoon 166" expired pesticide label changed case

A8

好来化工(中山)有限公司
高露洁棕榄(中国)有限公司
宝洁(中国)有限公司
葛兰素(中国)投资有限公司
拜尔斯道夫股份有限公司

Hawley & Hazel Chemical Co. (Zhong Shan) Ltd,
Colgate-Palmolive (China) Company Limited,
Procter & Gamble (Guangzhou) Ltd,
GlaxoSmithKline (China) Investment Co., Ltd,
Beiersdorf AG

"7.22"汕头特大假冒注册商标案

7.22 Special Anti-Counterfeiting Project

A9

联合利华(中国)有限公司、宝洁(中国)有限公司、强生(中国)投资有限公司、拜尔斯道夫股份有限公司、高露洁棕榄(中国)有限公司

BEIERSDORF AKTIENGESELLSCHAFT, Colgate-Palmolive (China) Co., Ltd., Unilever (China) Investing Co., Ltd., Procter & Gamble (China) Ltd., Johnson & Johnson (China) Investment Co., Ltd.,

日化行业最大涉假案件:郭某某等特大跨境生产、销售假冒注册商标商品案

The Largest Counterfeiting Case in the Daily Chemical Industry: Raid Action against Mr. GUO Criminal Gang on Super-large Cross-border Production and Selling of Commodities Bearing Counterfeited Registered Trademark.

A10

博世(中国)投资有限公司- (案件公司名称:上海博世力士乐液压及其自动化有限公司)

BOSCH (China)Investment Co.,Ltd (Case Company Name: Shanghai Bosch Rexroth Hydraulics & Automation Ltd)

张某假冒博世力士乐注册商标罪案件

Criminal Case of ZHANG Producing and Selling Bosch Rexroth Counterfeit Product

A11

博柏利有限公司

BURBERRY LIMITED

深圳市某服饰有限公司、胡某、张某某假冒Burberry公司注册商标案

Criminal Prosecution against A Shenzhen Apparels Co., Ltd., HU, and ZHANG on Counterfeiting Registered Trademarks

A12

卡特彼勒公司

Caterpillar Inc.

娄某团伙生产销售假冒"CAT"注册商标的油产品供应链案

Supply Chain for Oil Products with Counterfeit "CAT" Registered Trademark, Produced and Sold by the Network Led by Lou

A13

思科科技(北京)有限公司

CISCO TECHNOLOGIES (BEIJING) CO LTD

安途信达跨境生产销售假冒思科交换机案

SHANDONG ANGLENET COUNTERFEIT CISCO PRODUCT CASE

A14

思科科技(北京)有限公司CISCO TECHNOLOGIES (BEIJING) CO LTD

北京昌平Hardware Equipment Systems(HES)假冒网络通信设备团伙案

BEIJING CHANGPING HARDWARE EQUIPMENT SYSTEMS (HES) COUNTERFEIT TELECOMMUNICATION EQUIPMENT GANG CASE

A15

科迪华(中国)投资有限公司、杜邦中国集团有限公司

Corteva (China) Investment Co., Ltd., DuPont China Holding Company Limited

山东青岛杜邦化工集团生产销售伪劣农药案

Shandong Qingdao DuPont Chemical Group Production and Sale of Fake and Shoddy Pesticide Case

A16

丹佛斯有限公司、艾默生电气公司

Danfoss Co., Ltd. and Emerson Electric Co.

魏某欣、贾某辉等人生产、销售伪劣产品罪

Case of Wei Mouxin, Jia Mouhui and others constituted crime of producing and selling shoddy products

A17

帝斯曼知识产权资产有限公司DSM IP ASSETS B.V.

苏州林某、刘某假冒注册商标罪案件-帝斯曼公司Stanyl塑料粒子产品

Criminal Conviction against Suzhou Lin***, Liu for the Crime of Counterfeiting Registered Trademark - DSM's Stanyl plastic particles

A18

费列罗有限公司

Ferrero S.p.A

刘明、刘洋洋等非法制造的注册商标标识罪案
Liu Ming, Liu Yangyang, etc. Illegally Manufactured Registered Trademark Logo

A19

孩之宝有限公司

Hasbro, Inc.

李某等人侵害孩之宝有限公司著作权案

Criminal Conviction against Mr. Li and Others for Copyright Infringement

A20

开云投资管理集团有限公司Kering Investment Management Group Co., Ltd.

以黄某某为首的特大跨区域制售假团伙假冒注册商标案

Super-large cross-regional gang of counterfeiting registered trademark led by Mr. Huang

A21

欧莱雅(中国)有限公司 L'Oréal (China) Co., Ltd.

郭建果销售假冒注册商标的商品案

The Case of Guo Jianguo selling counterfeit commodities of registered trademark

A22

乐高博士有限公司

LEGO Juris A/S

上海某教育科技有限公司、姚某假冒乐高服务商标一案

Criminal conviction against YAO and his company in Shanghai for counterfeiting service marks

A23

陆逊梯卡集团股份有限公司Luxottica Group S.P.A.

广东省东莞市雷某某等人制售假冒注册商标的商品案
Lei and Others Counterfeiting Registered Trademarks in Dongguan City of Guangdong Province

A24

陆逊梯卡集团股份有限公司Luxottica Group S.P.A.

广州黄某假冒注册商标案

Huang Counterfeiting Registered Trademarks in Guangzhou

A25

微软(中国)有限公司

Microsoft (China) Co. Ltd.

林团伙侵犯微软计算机软件著作权案([2021]京01刑终387号)

LIN Group vs Microsoft Computer Software Copyright Infringement Case ([2021] Jing 01 Xing Zhong 387)

A26

耐克体育(中国)有限公司

Nike Sports (China) Co., Ltd

平顶山杨俊等特大销售假冒注册商标商品案 Pingdingshan, Yang Jun cases of selling goods with counterfeit registered trademarks

A27

施耐德电气(中国)有限公司

Schneider Electric (China) Co., Ltd

段某、张某、吴某、叶某等8人加工、销售假冒"Schneider Electric"注册商标产品案
The case of Duan, Zhang, Wu, Ye and other People Producing and Selling Counterfeit "Schneider Electric" Registered Trademark Products

A28

罗氏制药有限公司

Shanghai Roche Pharmaceuticals Ltd.

无锡瑞盈生命科学有限公司非法生产、销售假药案件 Illegally Producing/ Selling Fake Medicines by Wuxi Ruiying Life Science Co., LTD

A29

德高(广州)建材有限公司SikaDavco (Guangzhou) Co., Ltd.

伍某等10人假冒注册商标、销售假冒注册商标的商品或非法制造、销售非法制造的商标标识案

The case of Wu and other 10 people counterfeiting registered trademarks, selling goods with counterfeit registered trademarks, or illegally manufacturing and selling illegally manufactured trademark marks

A30

富邑葡萄酒集团

Treasury Wine Estates(TWE)

深圳夏某等假冒注册商标案

Case of Xia A's Gang Counterfeiting Registered Trademarks

A31

环球影业有限责任公司("环球公司")

UNIVERSAL CITY STUDIOS LLC (hereinafter referred to as the "Universal")

罗某就"小黄人"形象飞行器侵犯著作权刑事案件

Criminal case against Luo for copyright infringement of the "Minions" shaped toy aircraft

A32

美国高尔夫生产商反假冒联盟 US Golf Anti-counterfeiting Working Group

刘某平、周某军等假冒注册商标罪、销售假冒注册商标的商品罪案

Criminal Raid Actions against Counterfeiting Golf Products Syndicates

A33

之宝(中国)户外产品有限公司

Zippo (China) Outdoor Products Co., Ltd.

广东江苏江某某袁某某假冒注册商标案

Case of Jiang and Yuan Counterfeiting Registered Trademarks in Guangdong and Jiangsu

A34

S.C. 庄臣父子公司

S.C. Johnson & Son, Inc.

Combined efforts of administrative and criminal raid against a "KIWI" trademark infringement gang in Anhui Province
安徽灵璧一团伙侵犯"KIWI"注册商标专用权之行政、刑事组合拳案

B1

3M中国有限公司

3M China Ltd.

3M公司诉山西海博贝马生物科技有限公司商标权纠纷案

3M Company vs. Shanxi Hai Bo Bei Ma Biotechnology Co., Ltd

B2

百威投资(中国)有限公司Anheuser-Busch Inbev (China) Co.,Ltd

百威中国(销售)有限公司与山东金孚龙啤酒有限公司侵害商标权及不正当竞争纠纷一案

Dispute on trademark infringement and unfair competition between Anheuser-Busch Inbev (China) Sales Co.,Ltd and Shandong Jinfulong Beer Co., LTD

B3

安踏体育用品有限公司

ANTA SPORTS PRODUCTS LIMITED

亚玛芬诉苏某一、苏某二侵害商标权纠纷一案

Amer Sports _Trademark infringement lawsuit against Su Jianghao and Su Kunpeng

B4

安踏体育用品有限公司

ANTA SPORTS PRODUCTS LIMITED

斐乐诉依思有限公司、苏州工业园时尚区舞台商城有限公司擅自使用知名商品特有名称、包装、装潢及侵害商标权纠纷案

Fila v. Yisi Co., Ltd. and Suzhou Industrial Park fashion zone stage mall Co., Ltd. used the unique name, packaging, decoration of well-known commodities without authorization and trademark infringement.

B5

阿诺莱德贸易(北京)有限公司ARRI China ( Beijing ) Co., Ltd

阿诺德及里奇特茨纳技术公司与北京已凡影视器材有限公司商标专用权侵权案

Arnold & Richter Cine Technik GmbH & Co. Betriebs KG vs. Beijing Yi Fan Film & TV Equipment Co.,Ltd

B6

西门子(中国)有限公司&博世(中国)投资有限公司

Bosch (China) Investment Ltd, Siemens Ltd., China

深圳博世西门子科技有限公司、宁波帅舟电器有限公司、蒋晨叶、刘文章等侵害商标权及不正当竞争纠纷案

Trademark infringement and unfair competition by Shenzhen Bosch Siemens Technology Co., Ltd, Ningbo Shuaizhou Electric Appliance Co., Ltd., Jiang Chenye and Liu Wenzhang

B7

卡尔文·克雷恩商标托管CALVIN KLEIN TRADEMARK TRUST

卡尔文·克雷恩商标托管诉中奢集合国际贸易(广州)有限公司等5被告商标侵权纠纷

CALVIN KLEIN TRADEMARK TRUST v. Zhongshe Collection International Trade (Guangzhou) Co., Ltd. 5 defendants over trademark infringement

B8

迪尔公司

Deere & Company

颜色组合商标维权系列案件

Series of cases of color combination trademark rights protection

B9

伊顿公司

Eaton Corporation

山特诉佛山菱冠商标侵权与不正当竞争案件

Santak VS. Foshan Lingguan Trademark Infringement and unfair competition Case

B10

艾默生电气公司

Emerson Electric Co.

艾默生电气公司诉厦门安吉尔水精灵饮水设备有限公司不正当竞争纠纷案

Unfair Competition Lawsuit between Emerson and Xiamen Anjier

B11

霍尼韦尔国际公司

Honeywell International Inc.

霍尼韦尔国际公司诉黄炜壕、谭雪梅侵害商标权纠纷案

Honeywell International Inc. v. Huang Weihao and Tan Xuemei for trademark infringement

B12

乐高博士有限公司

LEGO Juris A/S

乐高博士有限公司诉广州市忠诺贸易有限公司和沈某某侵害商标权纠纷一案

LEGO A/S against SHEN Xiaoyu and Zhongnuo Trading Co., Ltd

B13

罗格朗智能电气(惠州)有限公司

Legrand Intelligent Electrical (Huizhou) CO., LTD

"法国罗格朗"VS"嘉兴罗格朗"案件

"Legrand France" VS "Jiaxing Logrood" case

B14

酩悦轩尼诗

Moet Hennessy

法国轩尼诗公司诉林某慈等人侵害注册商标专用权纠纷案件

Trademark Infringement Litigation Case (HENNESSY vs. LIN)

B15

新百伦贸易(中国)有限公司New Balance Trading (China) Company Limited

新平衡体育运动公司诉莆田市盛丰盛鞋业有限公司、莆田市沃百利贸易有限公司、王金标、姑苏区美陆鞋店商标侵权和不正当竞争案

New Balance Athletics v. SFS Shoes Co., LTD, WBL Trading Co. LTD, WANG Jinbiao, M Shoe Store for trademark infringement and unfair competition

B16

新百伦贸易(中国)有限公司New Balance Trading (China) Company Limited

新百伦贸易(中国)有限公司诉纽巴伦(中国)有限公司、赵城鹏不正当竞争纠纷案

New Balance Trading (China) Company Limited vs New Barlun (China) Co., Ltd. for unfair competition

B17

宝洁(中国)有限公司

Procter & Gamble Company

宝洁公司诉广州中网日化实业有限公司、河南中网日化有限公司及夏志良侵害商标权及不正当竞争 纠纷案 Civil Litigation against Longstanding Infringing Tide Group – Guangzhou Zhongwang Daily Chemicals Co., Ltd., Henan Zhongwang Daily Chemicals Co., Ltd. and Mr. Xia Zhiliang

B18

施耐德电气(中国)有限公司Schneider Electric (China) Co.Ltd

施耐德电气(中国)有限公司与杭州东恒电器有限公司等侵害商标权纠纷案

Trademark Infringement Litigation: Schneider Electric (China) Co.Ltd v. Hangzhou Dongheng Electric Co

B19

富邑葡萄酒集团

Treasury Wine Estates ("TWE")

南社布兰兹有限公司诉泉州旗牌红进出口贸易有限公司等商标侵权案

Southcorp Brands Pty Limited. Vs. Quanzhou Qi Pai Hong Import and Export Co., Ltd. etc.

B20

联合利华(中国)投资有限公司Unilever (China) Investment Co. LTD

联合利华有限公司诉王福龙、许书品侵害商标权纠纷案

Unilever v. Wang Fulong and Xu Shupin in Trademark Infringement Dispute

B21

环球影业有限责任公司("环球公司")

Universal City Studios LLC

环球公司诉沧州千尺雪食品有限公司等"小黄人"著作权侵权诉讼案

Universal's "Minions" copyright lawsuit against Cangzhou Qianchixue Food Co., Ltd. and other 5 entities

B22

维谛技术有限公司

Vertiv Tech Co., Ltd.

维谛公司诉李某亮、贝耳公司侵害技术秘密纠纷案 Vertiv vs. Li and Bell Company for the Dispute over Infringement on Technical Secrets

B23

维多利亚的秘密公司

Victoria's Secret &Co.

维密刺破法人面纱商标侵权案

VICTORIA'S SECRET Piercing the Corporate Veil Trademark Infringement Case

C1

苹果公司

Apple Inc.

湛江市假冒苹果授权店涉及商标侵权和不正当竞争案

Fake Apple Stores in Zhanjiang City Trademarks Infringement and Unfair-Competition

C2

赛诺菲(中国)投资有限公司、阿斯利康(中国)投资有限公司AstraZeneca China Investment Co., Ltd, Sanofi China Investment Co., Ltd

因运输假药国内物流行业某公司首次受处罚案

First Administrative Punishment against a Logistics Company for involving Fake Drugs Delivery

C3

康恩泰有限公司

CONSITEX S.A. (ZEGNA)

10601729号"ZSNOI"商标权无效宣告行政纠纷案 Invalidation action against the No. 10601729 trademark "ZSNOI" in Class 25

C4

迪尔公司

Deere & Company

颜色组合商标行政保护案

Administrative litigation of Well-known Trademark John Deere

C5

迪尔公司

Deere & Company

"JOHN DEERE"驰名商标保护案

Administrative Enforcement of Color Trademarks

C6

帝斯曼知识产权资产有限公司DSM IP Assets B.V.

关于第13538218号"life's DHA"商标驳回复审行政诉讼再审案件

The retrail case of administrative lawsuit regarding review of trademark refusal of Trademark No. 13538218

C7

艾默生电气公司

Emerson Electric Co.

烟台勤朔进出口有限公司、烟台然路进出口有限公司侵犯艾默生电气公司知识产权被行政处罚案

The Administrative Punishment of Yantai Qinshuo Import &Export Co., Ltd and Yantai Ranlu Import & Export Co., Ltd. infringed Emerson Electric Co., Ltd. IP rights

C8

欧莱雅(中国)有限公司

L'Oreal (China) Co., Ltd.

义乌市优发进出口有限公司,陆某某等人销售侵权及假冒欧莱雅公司旗下注册商标的商品案

Yiwu Youfa Import and Export Co., Ltd. and Ms Lu etc. selling & exporting counterfeit & infringing L'Oreal cosmetic commodities

C9

美敦力(上海)管理有限公司Medtronic (Shanghai) Management Co., Ltd.

苏州市普洛欣投资顾问有限公司恶意注册"MEYDUNLG 美敦力加"商标行政诉讼案

Trademark Administrative litigation against Malicious Registration of " MEYDUNLG 美敦力加" trademark filed by Suzhou Puluoxin Investment Consulting Co., Ltd.

C10

微软(中国)有限公司

Microsoft (China) Co. Ltd.

上海跨鳄计算机有限公司不正当竞争案(沪市监总处[2021]322021000207)

Shanghai Kuae Computer Co., Ltd. Unfair Competition Case (General Office of Shanghai Administration Market Supervision [2021]322021000207)

C11

贝亲管理(上海)有限公司PIGEON (SHANGHAI) CO., LTD.

第19622795号"贝亲"商标(第39类)的无效宣告行政纠纷案件

Administrative Litigation on Invalidation against Trademark "贝亲" under Registration No. 19622795 in Class 39

C12

彪马欧洲公司

PUMA SE

彪马公司针对第19419641号"飚马PUMAH及图"商标无效宣告请求行政诉讼二审案

Appeal of Administrative Litigation Regarding PUME SE's Invalidation Request against trademark No. 19419641 for "飚马PUMAH & DEVICE"

C13

施耐德电气(中国)有限公司Schneider Electric (China) Co. Ltd.

"Scnmertcn Electric"恶意仿冒" "驰名商标行政诉讼案

Administrative Litigation Between Well-known Mark " " And Its Imitation ""

C14

西门子(中国)有限公司 Siemens Ltd. China

深圳市弘博汇科技有限公司侵害外观设计专利权案 Shenzhen Hobere Technology Co., Ltd. Infringes Design Patents

C15

富邑葡萄酒集团

Treasury Wine Estates (TWE)

第5662026号"奔富"商标(33类)无效宣告请求行政纠纷案

Invalidation Action against Registration 5662026 for Ben Fu in Class 33

C16

环球影业有限责任公司("环球公司")

Universal City Studios LLC

北京市市场监督管理局查处的利用"环球影城"知名服务特有名称进行不正当竞争处罚案

Unfair Competition Enforcement against City Light Real Estate Project using the unique name of "环球影城"

C17

维多利亚的秘密公司

Victoria's Secret &Co.

义乌沐燃进出口公司侵害维密商标权案

Yiwu Muran Importing & Exporting Co., Ltd. Infringing Victoria's Secret Trademarks Case