Discussion on Foreign Enterprises' Needs for Administrative IP Protection Successfully Held
by Xavier Xia
On September 29, The IP Service Center of the China Council for the Promotion of International Trade ("CCPIT") held in Guangzhou a discussion on foreign enterprises' needs for administrative protection of IPR to fully implement the Opinions on Strengthening IP Protection, improve administrative protection of IPR and further create the positive atmosphere for equal protection. QBPC, as the supporting organization of the event, encouraged members to attend. 11 member companies attended the meeting and discussed the administrative protection of patent and trademark and issues that foreign enterprises had encountered, among other issues.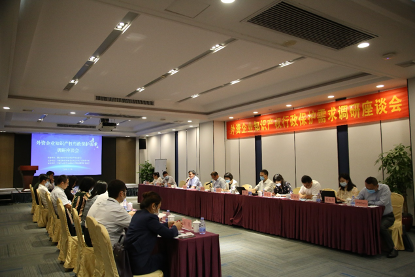 Officials from the Department of IP Protection of National IP Administration attended the meeting. Representatives of Guangdong IP Administration, IP Protection Center and Trademark Association introduced the IP protection work Guangdong had done. QBPC members highly praised the progress China had made in IPR protection and gave suggestions on issues they had encountered in operation, such as bad faith registration of trademark, the storage and destruction of counterfeits during administrative enforcement, and administrative protection of trade secret. The officials present gave responses to each question.
Officials from National IP Administration Department of IP Protection stated that the IP Administration had paid close attention to the protection of foreign companies' IPs in China and would continue to guide and strengthen administrative enforcement, striving to create a better business environment for IP.
The participants also went to QBPC member Danone's office to learn more about the progress China had made in terms of protecting IP, the difficulties companies had encountered and foreign enterprises' needs for administrative protection of IPR.